Dr. Larry Sierra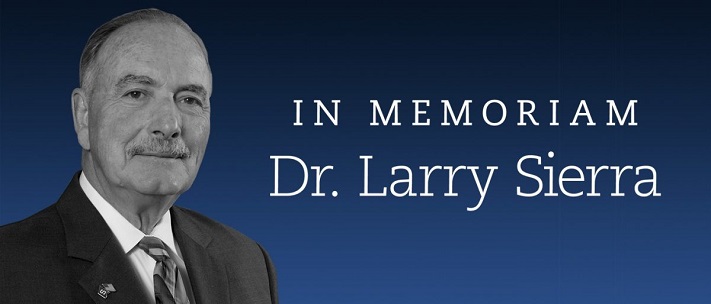 It is with deep sadness that NIRSA shares the news that Dr. Lawrence Sierra passed away on May 6, 2017 at age 79 following complications from a stroke he suffered during the winter. Dr. Sierra held various positions at Michigan State University over the course of many years, at one point serving at the Director of Intramural Sports and Recreative Services. He was born on July 19, 1937 in Canton, OH and is survived by his wife of 59 years, Arlene; his daughter, Beth A. Sierra; his son, Jeff (Roberta) Sierra; grandchildren Lindsey Miller, Austin Miller, and Alana Rose Sierra; his brother, Richard Sierra; and by many loving nieces and nephews.
Larry was a dynamic, loving, inspirational, and generous husband and father who always made his family his daily priority in everything he did and in every decision he made. His grandchildren were his pride and joy. Larry was a protector and provider of not only his family, but of his family of friends and to the East Lansing community he lived in and loved.
"Dr. Sierra has a huge place in my heart," says Angela Michael, a former student and the current Assistant Director (IM Sports Circle, Club Sports, Self Defense) at MSU. "My entire life changed when I worked at the IM during my undergrad," she explains. "I currently benefit from a job I love going to everyday, the best family-friendly working environment I have ever been in. That culture exists because Dr. Sierra made it so. He understood the balance between being stern and making sure things got done while also putting issues into perspective and ensuring our priorities were straight. He demonstrated loyalty, taking care of your community, the importance of supporting those who support you."
Humble beginnings broadened with hard work
Larry was a smart kid and talented in many ways. He knew that he wanted to find a way out of the childhood neighborhood and said that if he hadn't, he probably would have ended up a hoodlum. Larry could have gotten out on his smarts alone, but it was his athletic ability that provided him the best opportunity. In a very real way, he was the poor kid from the wrong side of the tracks who got a shot at something more through athletics.
Two major league baseball clubs showed interest in him right out of high school—Pittsburgh and Philadelphia—which is kind of funny because baseball was not his sport of choice. Basketball is what he loved; it was his passion and he was good at it. He had several basketball scholarship offers, including one from The Ohio State where everyone expected he would go. But, in 1955, he left his home state and came to East Lansing to study and play basketball at Michigan State University.
Like many athletes, his collegiate basketball career was not all he wanted it to be—both injuries and coaching changes playing a major role. Interestingly, before he was done, he somehow ended up on the varsity soccer team. He said the only reason he was let on the team was because he spoke fluent Spanish; Spanish was actually his first language. He said the coach had no idea what half the players were saying to him—or saying about him—so Larry's job was to translate. He also had pretty good hands and ended up playing in the goal and lettering in soccer on a team that had multiple undefeated seasons.
In 1959, Larry earned his bachelor's degree in physical education. Upon graduation, to fulfill his ROTC commitment, he entered the army as a lieutenant in the military police. He served at various stations throughout the United States and Europe—more specifically, in Germany.
In 1962, under Dr. Frank Beeman, Larry started what would be a 50-year career serving the students, faculty, and staff of MSU. He held positions from assistant director to associate director before eventually earning the honor of Director of Intramural Sports and Recreative Services in 1987. Along the way, he earned a master's degree in health and physical education and a doctorate in higher education.
A legacy of service and commitment to the profession
Larry brought together a diverse team of talented people who built an innovative and nationally-recognized program. Believing strongly that regardless of ability, recreational opportunities needed to be available to everyone, Larry coined the phrase "Sports for All," which is still the vision of the MSU program today. Larry proved to be an outstanding leader, mentor, and educator. He was instrumental in the establishment of a graduate degree program in sports administration at MSU, and mentored countless numbers of grad students who would later make their own marks as intramural and recreation professionals.
"I had the great fortune to be introduced to Larry as a young professional and he really became a true voice of reason for me throughout my career. His commitment to family, his passion and love for Michigan State, his focus on investing in staff, and his approach to always do the right thing demonstrated his grounded values and highlighted what is the true core of our work," says Mick Deluca, Assistant Vice Chancellor of Campus Life at UCLA. "Larry was a key influencer in the Big Ten and his support and advocacy helped to create the interaction of the Big Ten and Pac 12 in collaborating on the issues and topics that not only impacted our schools, but NIRSA and the greater profession. He was a giant in the profession that didn't seek the limelight, but when Larry spoke, people listened."
Larry served on more than 20 university councils over the years, including the Academic Council and Athletic Council. And he was actively involved with the Big Ten and with NIRSA: Leaders in Collegiate Recreation. He also created programs with the Special Olympics, School for the Blind, 4Hand many other organizations.
"Upon meeting Larry at a Big Ten Recreational Sports Conference in the mid-70's, the very first impression was 'Wow, what a distinguished man,'" says Kathryn Bayless, Assistant Dean and Executive Director, Campus Recreational Sports at Indiana University. "That impression proved to be lasting and more deeply understood over the years as he remains one of the most dignified, thoughtful, patient, and kind gentleman I also came to experience as a valued colleague. Larry was unassuming yet so seasoned—able to lend additional perspective to our deliberations about this field whether it was sharing lessons learned to help others or asking questions to facilitate broader thought."
She goes on to add, "When I think of Larry as being distinguished, I also mean he set himself apart as someone committed to being inclusive. This attribute was far from the norm early on in a field characterized by programs and facilities that emphasized competition and drew a male-dominated population as participants and employees. Larry was especially warm, supportive and respectful to all, a tremendous encouragement as the first female Director in the Big Ten. I am so grateful for his presence and example."
A lasting impact on the MSU community
Over the years, Larry supported the athletic department and varsity sports coaches in so many ways. He was a timekeeper and scorekeeper for men's basketball; he was a statistician supporting the radio broadcast team for football; and he was a player-mentor and chaperone for the annual men's golf spring trip. He was involved with athletic recruiting and he helped countless numbers of student athletes find employment; many worked for the IM/Sports Rec Department. "Larry Sierra was a great friend to me, my basketball program, and our entire athletic department," says Tom Izzo, Head Basketball Coach at Michigan State. "We loved Larry and appreciated everything he did for MSU Men's Basketball and Athletics. He will be dearly missed."
Countless phones calls, emails, text, and in-person messages of condolence found their way to Larry's family over the past several days. It's evident that he had a positive impact of everyone he came into contact with—and maybe especially the student employees or participants he influenced over his 50 year career at MSU. This influence is characterized very succinctly by one of these thousands of students, Joe Rockensuess, MSU '92:
"I worked for the Intramural Department primarily at IM West from 1987-1992. It was a great time in my life, and it gave me some exceptional experience in dealing with people and working with others. Dr. Sierra was a calm and steady hand leading the intramural organization and the individuals I most closely worked with. When I was there for the 50thanniversary celebration of IM West and the football game/dinner a few years back—probably six to seven years ago—as I wandered the IM West with my kids and showed them around, I met Dr. Sierra and he acted like he remembered exactly who I was even though I hadn't seen him since 15-20 years prior. He probably didn't really remember me, but either way, he made me feel back at 'home.'"
A funeral service for Dr. Sierra was held Friday, May 12, 2017 at 11:00am at the University Lutheran Church, 1020 S. Harrison Road, East Lansing, MI with Pastor John Schleicher officiating. In lieu of flowers, contributions may be made to The Lawrence Sierra Sports for All Endowment, MSU Development, 300 Spartan Way, East Lansing, MI 48824. Expenditures from the endowment will be used to support projects and programs through the Recreational Sports and Fitness Services Department that are designed to increase access to recreational opportunities for MSU students, faculty, and staff.