Unified Sports
Get Involved with Unified Sports!

Are you interested in getting invovled?!? 

Special Olympics MSU (SOMSU), the Registered Student Organization (RSO), works closely with IM Sports to recruit athletes and partners to participate in Unified Sports and also coordinates various social events.

Feel free to reach out to SOMSU with any questions or to express your interest!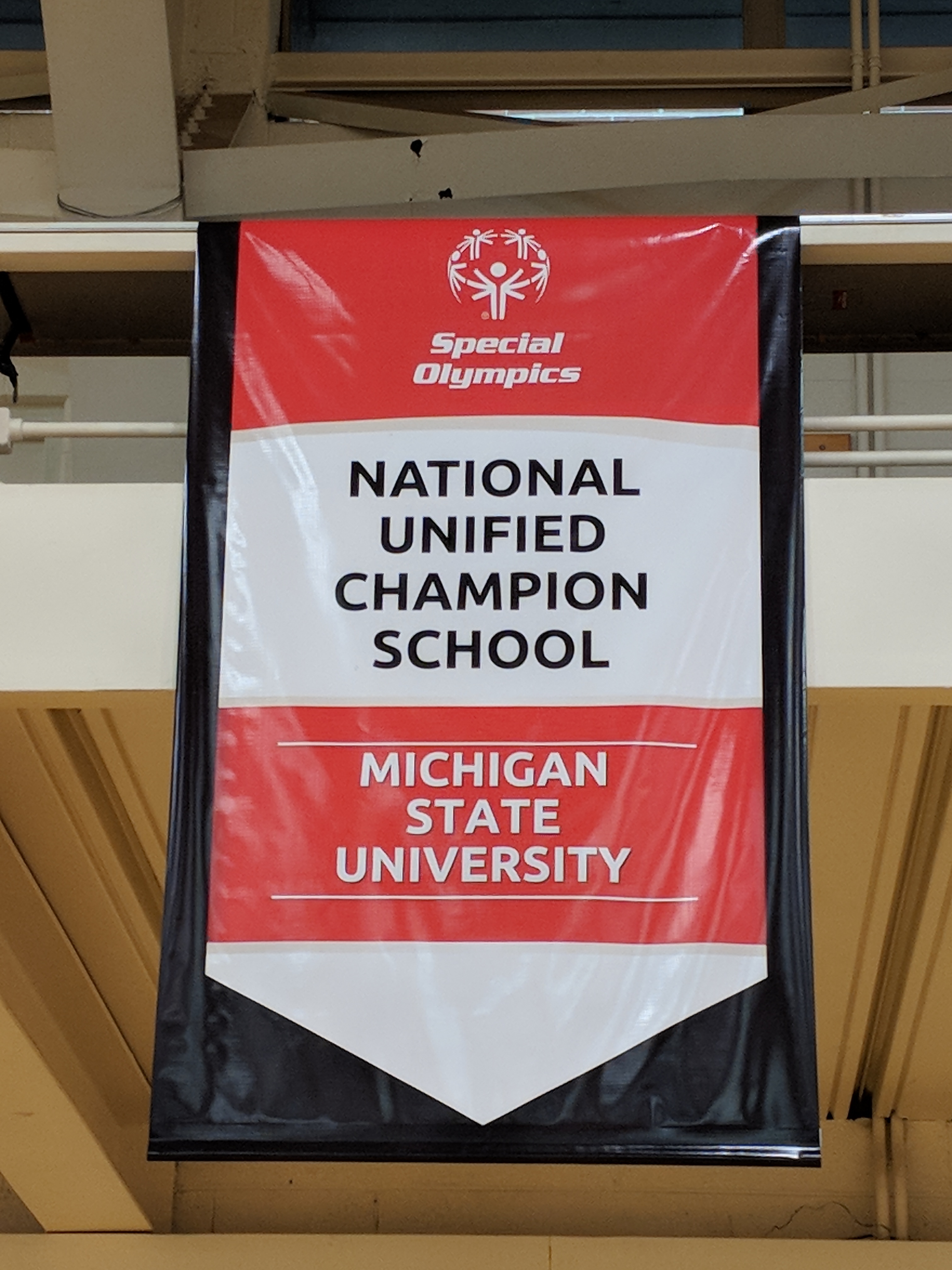 In March of 2018, Special Olympics North America recognized Recreational Sports and Fitness Services as a "Unified Champion School" through their National Banner Program. An exclusive distinction that only five schools in America have been recognized with. A Special Olympics Unified Champion School is defined as a school that "has an inclusive school climate and exudes a sense of collaboration, engagement and respect for all members of the student body and staff." A Unified Champion School that receives national banner recognition is one that has demonstrated commitment to inclusion by achieving ten standards [PDF]. These standards are based upon the three over-arching components that include Special Olympics Unified Sports®, Inclusive Youth Leadership and Whole-School Engagement. 
The Department partners with Special Olympics Michigan (SOMI) and the RSO Special Olympics Michigan State (SOMSU) to engage all participants. These activities promote social inclusion by teaming MSU Students with Special Olympics Athletes. Having people with and without intellectual disabilities compete on the same team fosters friendships and understanding among teammates and competitors.
The Unified Sports leagues run in conjunction with all other Intramural leagues at MSU, providing development opportunities for these participants on a weekly basis. The typical seven-week season includes assessment day, practice, four regular season games, and championship night. It is also highlighted by several Rivalry Games, where Unified participants play against a Unified team from the University of Michigan.
The reach of this program goes beyond the field of play. Liz Lobaccaro, of SOMSU, said "The Unified Sports league gives our Athletes the college experience that they normally wouldn't be able to experience. Without Intramural Sports, our club wouldn't be able to make as much of a hands-on impact as we do for the Special Olympic Athletes in the Lansing community."
Cathy Stevenson, mother of a SOMI athlete Nick Stevenson, said, "Nick really enjoys the SOMSU events. They have made his social life alive! Thank you for opening the doors of opportunity to our children!"
The Unified Sports program continues with Unified Flag Football and Unified Basketball. The Department looks forward to being able to provide outstanding experiences for both the MSU Students and the SO Athletes that participate.