IM West Pool
Is a 6 lane 25 yard (22.86 meter) pool with separate diving well, ranges from 4.25 feet (1.3 meters) to 14 feet (4.3 meters) and is heated between 80F - 82F degrees.  Two 1 meter and 3 meter diving boards are available in the IM Sports West Indoor Pool.  The Indoor pool deck provides access to restrooms and locker room facilities. The pool is accessible by use of ladders and an aquatic lift.
Primary uses:  Swimming, diving and water polo competitions, lap swim, aquatic club practices and intramural's.
IM West Outdoor Pool (1959 - 2017)
This iconic landmark on Michigan State's campus served the university community for 48 years.  When built it made Michigan State one of the first schools in the country to have and indoor and outdoor facility located on one facility.  This design helped the MSU swimming program achieve great success.  In addition to athletics, thousands of students, faculty and staff used the pool for recreational swimming.   In the summer the outdoor pool was used by swimming and diving clubs, summer camps, and special events.  Due to the age of the pool, the internal components started to fail and on October 31, 2007 the pool was closed permanently.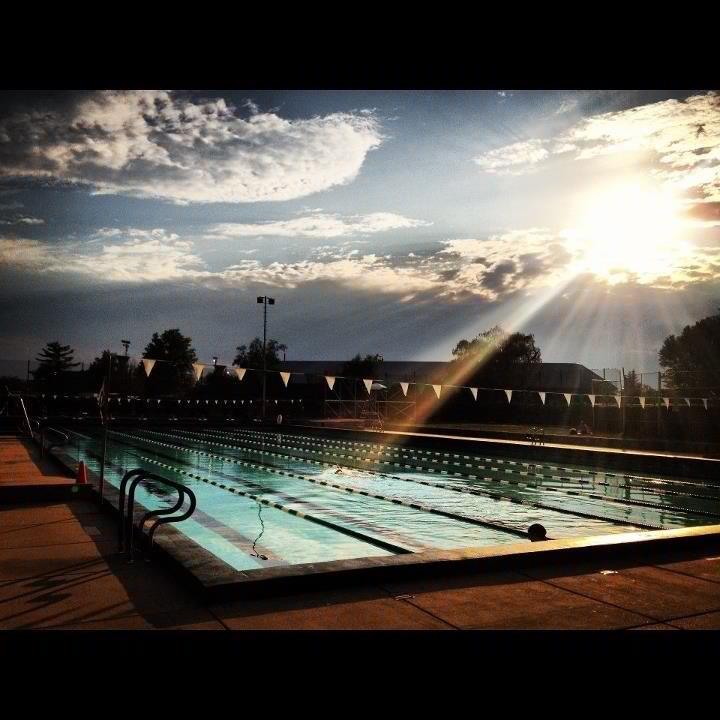 LIFEGUARDS must be properly positioned in the stand before any participant can enter the water.
REC SPORTS DEPARTMENT STAFF has final authority on all matters.
PROPER SWIMMING ATTIRE IS REQUIRED.  THONGS and STREET CLOTHES ARE PROHIBITED. 
NO RUNNING ON DECK.
NO PROLONGED BREATH HOLDING
NO HORSE PLAY or ROUGH PLAY ALLOWED.
NO PROFANITY or VULGAR LANGUAGE.
NO DIVING IN LAP LANES ALLOWED. 

 

FEET FIRST ENTRY ONLY.
NO GLASS or other BREAKABLE MATERIAL ALLOWED.
NO FOOD, DRINK or CHEWING GUM ALLOWED in the Indoor pool.

 

(Outdoor Pool: Food and Drink allowed on the lawn)
DO NOT HANG or SWIM ACROSS LANE LINES.
NO SMOKING or DRINKING ALCOHOLIC BEVERAGES ALLOWED.
NO SPITTING and NOSE BLOWING in POOL or GUTTERS ALLOWED.
ALL CHILDREN UNDER 16 YEARS OF AGE MUST BE SUPERVISED BY PARENTS (PARENTS MUST REMAIN ON DECK AREA AT ALL TIMES).
INFANTS MUST WEAR SWIM DIAPER and PLASTIC PANTS IN POOL.
ONLY U.S COAST GUARD approved flotation devices are permitted.
Purposeful Hyperventilation is PROHIBITED.
Participants with an infectious condition or communicable disease such as a cold, skin eruption, or open blister are not permitted to use the pool.
Follow Posted Lap Swimming Guidelines.
PLACE ALL TRASH IN TRASH RECEPTACLES.
NO PETS ALLOWED.
KICKBOARDS and PULL BOUYS ARE NOT TO BE USED AS FLOATING DEVICES.
VIOLATION OF THE ABOVE RULE(S) MAY BE GROUNDS FOR REMOVAL FROM AQUATIC FACILITY.
Indoor Diving Area Rules
LIFEGUARDS must be properly positioned in the stand before any participant can enter the water.
NO SWIMMING IN THE DIVING WELL IS ALLOWED, WHILE DIVING BOARDS ARE IN USE.
YOU MUST BE ABLE TO SWIM IN 16 FEET OF WATER TO BE IN THE DIVING WELL.  NO FLOATATION DEVICES WILL BE ALLOWED.
NO ONE ALLOWED OFF OF 3 METER PLATFORM
1 METER AND 3 METER SPRINGBOARDS
ONLY ONE BOUNCE ON BOARD
JUMP OR DIVE STRAIGHT OUT FROM BOARDS
ONE PERSON ON SPRINGBOARD AT A TIME
NO HANDSTANDS ON BOARDS
NO BUTT DROPS OFF BOARDS 
When we work together, lap swimming can be a wonderful experience for all levels of need and fitness and enhances the aquatic experience for all patrons. Smile and enjoy your workout.
Circle Swimming:
When there are more than two people in a lane, circle swimming is required. If there are only two people in a lane, they have the option of splitting a lane.
Swim in a counter-clockwise circle in the lane. Down on the right, back on the left.
Always swim complete laps of the pool. Avoid stopping in the middle of the pool for any reason, this can interfere with other swimmers and cause collisions.
Stop only at the wall and once stopped, stay in the corner of the lane, preferable the left hand corner.
If you are approaching the wall and another lap swimmer is swimming at a faster rate then you are, pause at the wall to allow the faster swimmer to go by.
Always start, turn and finish at the wall. This will enhance your fitness and keep clear communication within the lane.
Passing:
If you need to pass in your lane move up to the swimmer and tap his/her foot. It is inappropriate to grab, pull, or tickle the person, but a tap is a clear indication of your presence and your intent to pass.
If your foot has been tapped there is no need to stop. Once you are aware of another's intent to pass, slow down just slightly and slide over as close to the lane rope as possible.
If the indication to pass has occurred right before the wall, it is appropriate to pause at the wall in the right hand corner to allow the swimmer to advance through his/her turn.
If you are passing a swimmer, it is the custom to pass on the left after you have indicated your intent by tapping his/her foot.
A pass must be initiated in time to over take the slower swimmer before the wall. In case of ambiguity approaching the turn, the swimmer whose head is closest to the wall has the right of way and the swimmer whose head is behind must yield the turn in the interest of safety.
To pass several swimmers in a line the faster swimmer can move to the other side of the lane and change directions. This pass can be done only after being certain the space is clear and he or she is slightly ahead of the line once he/she has turned around.
Faster swimmers should give slower swimmers as much space in front of them as possible before pushing off or start their swim just before the slower swimmer reaches the wall to avoid having to pass them right away.
If you encounter a problem with a fellow swimmer, please notify a lifeguard immediately.